Gabrielle Roth's 5Rhythms®
Courage to Love
Heart of the masculine
Workshop for men
led by Jan Redsted & assisted by Benjamin Redsted Uhlemann



Love is a consequence of our physical
ability to be embodied & present. To see
beauty, be inspired and fascinated.



This workshop extends physical practice to the territory of masculine energy, the gateway to the heart. It is the part of us that stands up for what we care about, who and what we love, and to be aware and respect boundaries in others as well as in our selves. The masculine heart is the protector and ambassador of our fluid being. A man fully embodied in this Rhythm is defined, clear, connected, and despite fear, brave enough to allow the transparent expression of heart. Courage and ability to say yes and to say no, in a way that leaves no doubt.



"To break the circle of wounded fathers"
Gabrielle Roth
---
Jan Redsted - 5RTA (5Rhythms Teachers Association).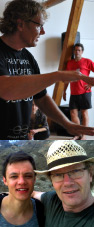 Completed 5Rhythms Teacher Training in the United States with Gabrielle Roth in 2004 - 2005 and taught the 5Rhythms since. Teaching weekly Classes and organize International 5Rhythms workshops. Assisted Jonathan Horan in Mirrors and Naked Soul workshops since 2016.
Boardmember of 5Rhythms Reach Out (5RRO.org)

Benjamin Redsted Uhlemann and Jan Redsted are Son and Father. They talked about this workshop for men for a long time and finally it becomes a reality. Benajmin worked with the subject; men, for some time with Thomas Friis and Benjamin wanted to help and offer a space for men to meet and dance. A space safe enough to share, express and heal old wounds.
_____________________________

Time: 2. & 3. June 2018
Saturday: 11 am. - 6 pm
Sunday: 11 am - 5.00 pm

Venue: København Karateklub
Bernhard Bangs Alle 27, 1. sal
2000 Frederiksberg
Se hvor her...Klik


Level:
This workshop counts as Waves hours workshop for the Gabrielle Roth 5Rhythms Teacher's Training
Prerequisites:
Beginners are welcome but are recommended to have at least 6 hours of instructed 5Rhythms® practice
Cost:
1600 Dkr all days
1300 Dkr if payed before 16. May
Contact / Booking:
Please send an e-mail with, your name, address and phonenumber to Jan Redsted and I will send you all the information you need!

Email: jan@redsted.dk
Tel +45 29 62 29 76
---
FACEBOOK:
www.facebook.com/events/181302586001774/
---

København Karateklub
Bernhard Bangs Alle 27
1. Floor
2000 Frederiksberg


See where...Cli
ck here
---
Travel/Trains/Airports
Airports:
Copenhagen Airport
Nearest Metro (Flintholm st) 700 meters from venue (8 min walk)
Metro link www.rejseplanen.dk/bin/query.exe/en
---
Overnight Accommodation:

Hostels: danhostel.dk
BB: bedandbreakfastoverblik.dk/engelsk/
Local Dancers who are offering rooms
We created a facebook group for this kind of communication: "5Rhythms workshops in Denmark" Join the group here!
---

Postcards
If you would be willing helps us and know a good place for postcards? We could send you some.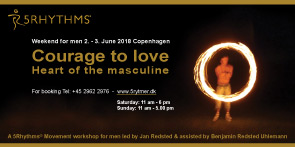 _____________________________