Gabrielle Roth's 5Rhythms® Workshop

Slow Dancing With Chaos
with Jonathan Horan

In these funky, frenetic times, we need our feet on the ground, our instincts intact and our intuition in full force. Being true to the signs and signals that come from within is our survival art, not to mention a way to move with integrity in a world in flux. Hidden in chaos, like the eye of the hurricane, is the moving center, your power center, a place deep in your belly that holds your equilibrium and harmony. The way to this center is a deep medicine journey, a journey of blood, bones and sweat -- nothing less than an intimate affair with yourself.

When we are this connected to our true self, we respond instinctively and intuitively, rather than from fear or habit. We know when to stay and when to go, when to speak and when to be silent, when to be patient and when to push, when to rush full tilt and when to be still. And so we move. Fueled by the ecstatic language of the 5Rhythms®, this is movement as spiritual practice, a dancing, kinetic prayer of connection to the unpredictable mystery of it all.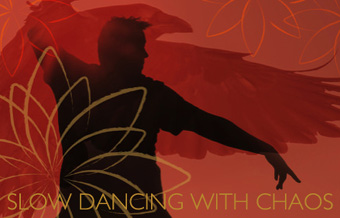 Recommended reading: Gabrielle Roth. Maps to Ecstasy and Sweat Your Prayers.
---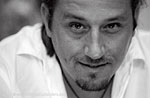 Jonathan Horan is Gabrielle Roth's son and closest collaborator. He is the Executive Director of her international institute, 5Rhythms Global as well as the Director of The Moving Center School NYC.
Jonathan has been immersed in the 5Rhythms practice throughout his life and continues to be a key catalyst in its evolution. He is a member of the core teaching faculty of both training and advanced work and teaches workshops of all levels around the world. He has taught at Vassar College and currently teaches for a variety of institutes such as Esalen, Omega, Kripalu and Naropa Institute and an annual residency in Blue Spirit in Costa Rica. His weekly NYC High Vibrations class has been featured in New York Magazine, Breathe, and the Daily News, and was chosen as the hottest movement class in New York by the Village Voice.

From the mountains and oceans of Big Sur to the skyscrapers and theatres of NYC, I grew up in extremes and learned a deep respect for the wilderness that is both nature and human nature. When I was nine, I participated in my first 5Rhythms workshop — my grandfather was dying, my mom was very fragile and I was worried about her so I hung around. I fell in love with the work, the rhythms, the people, the freedom and the discipline. By seventeen, I had dropped in fully and I have done almost every workshop Gabrielle has taught in the last twenty-five years. I followed in her dancing footsteps as student and teacher and am committed to keeping the fire of her core teachings alive.

---

Times:
Vejle 12. - 16. July 2019

Friday 12th (Open evening) 6.30pm to 9.30 pm*

Saturday 11am to 6 pm
Sunday 11am to 6 pm
Monday 11am to 6 pm
Tuesday 11am to 3 pm

*Friday class is recommended as part of the workshop but not mandatory.

Teacher: Jonathan Horan (USA)

Level:
All workshops contribute to 5Rhythms® teachers training prerequisites.

Venue:
Campus Vejle, Boulevarden 48, 7100 Vejle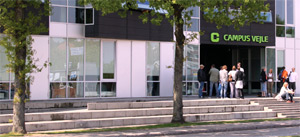 Find it on Google maps here...
PARKING
You can park for free all days on the other side of the street.

If you park on the side of the street by this entrance? Every day except weekend you have to write the registration number / License plate into the system at the Carousel door from the main road.
---
Buy food lunch break

There is a small supermarket beside venue and The pedestrian zone is 5 - 10 minutes walk from the venue... How to walk...

Many chose to spend time in the park between venue and pedestrian zone... Se where
---
Information about Vejle
http://www.visitvejle.com/ln-int/denmark/vejle-tourist
---
Price / Payment:

Price
Workshop 3000 Dkr
2700 if payed before june 10th

Open evening 300 Dkr.

We offer a 15 % discount of the full price for 5RTA members (Trained 5R-teachers)
---

Prerequisites:
Participants are requiered 5Rhythms waves expirience.

All workshop hours contribute to 5Rhythms® teachers training prerequisites.
---
Contact / Booking:
Please send an e-mail with your name, address, phonenumberto Jan Redsted and I will send you all the information you need!

Email: jan@redsted.dk Tel +45 29 62 29 76
---

Vejle city
.
---
Travel/Trains/Airports
Airports:



BillundAirport (35 min with bus to Vejle)

Buses (Billund - Vejle | Vejle - Billund)
Bus Sydtrafik Click here
Busses goes to TrafikCenter (15 min walk from venue: See rute here.... )

Copenhagen Airport
About 3 hours in train

Order Trainticket from Copenhagen here:
http://www.rejseplanen.dk/bin/query.exe/en

From: Copenhagen Airport
To: Vejle St.
Walking from Vejle train Station to Venue
---

Overnight Accommodation:
Own sleeping bag at the venue
The venue is open to let participants stay overnight for 50 Dkr. pr night. (little less than 7 Euro)
Can be payed during or before your stay.

Its very basic with classrooms where you would have to bring sleeping bag and something sleep on like a rolling pad or yogamatt.

Only Tea-kitchen to boil water, with no cooker or fridge but good showers and toilets.
Write to us if you are interested in this option. jan@redsted.dk
----------------
BB Hotel very close: This is a cheap solution if you share room with 1 or more people. Last years many were satisfied with this place and its only few min. walk from venue
http://www.bbhotels.dk/ (700 M) See on Maps
We heard of these 2 BB in Vejle center
1. www.casa-mundo-bb.com
30 min walk from venue see: google.dk/maps

2.This is a little closer: www.siesta-vejle.dk
15 min walk see : google.dk/maps
--------------------------------------------------

Hotels few meters from venue
1. www.scandichotels.com (600 M) See on Maps

2. BestWestern (1100 M) See on Maps
3. Vejle Center Hotel (750 M) See on Maps
4. CABINN Vejle (1200 M) See on Maps

--------------------------------------------------
AirBnB Vejle www.airbnb.dk/s/Vejle
Hostel (5 KM from venue)
http://www.vejle-danhostel.dk/index_eng.html
Appartments in Vejle
Click here...
Private BB in & close to Vejle
http://www.visitvejle.dk/vejle/bed-and-breakfast
Rent a Summerhouse (Car needed)
5 to 20 KM from venue
See more here...
Camping
www.vejlecitycamping.dk (2.8 km from venue)

If you have a car:

faarup-soe.dk-camp.dk 12 km

www.vejlefjordcamping.dk 15 KM from venue

www.hagenstrandcamping.dk 19 KM from venue

www.morkholt.dk 18 km from venue
---

RENT car
:
www.europcar.dk
RENT Bicycle
:
visitvejle.com
---