Gabrielle Roth's 5Rhythms® workshops
3 Weeks with Cycles, Mirrors and God,Sex and the Body

July 11th - 15th: Cycles
July 18th - 22nd.: Mirrors
July 25th - 29th: God, Sex and the Body

Participate in one, two or all 3 workshops
Each 5 Days with Jonathan Horan
---
July 11 - 15, 2018
CYCLES™
Cycles is an up close and personal look at our own lives, our birth, our upcoming death and everything and everyone between. We make connections, reweave threads, let go of the hurt and humiliations. We get real. We honor the people and events that have shaped who we are and the challenges and gifts they left us with and reinvent our inherited self into somebody we truly want to be.

BIRTH CHILDHOOD PUBERTY MATURITY DEATH

The Focus: letting go of the past and initiation into manhood and womanhood.
The Outcome: We get behind our own story without being ruled by it.

"If you free your mind to experience and complete each of your life cycles, integrating their teachings and tasks, you will change. It's when you stop moving through life that you get caught out of place, that you react to adult situations with childhood emotions. Moving completely through your life makes you whole."
---
July 18 - 22, 2016
Mirrors™ (Seeing the Self)
A 5Rhythms® Mirrors Workshop is the unveiling of the battle between the ego and our most soulful self. Mirrors level work is the most advanced and challenging investigation and lives in the domain of the mind. In Mirrors, the challenges become greater as we dive deeper in the ego, dancing with the world of our speaking self.
In Mirrors we receive the tools to identify our ego, thus creating the possibility of making a choice as to which part of us gets to use our mouth, our hands, our heads, our feet, our eyes and ears. We become archeologists and dig through our own ruins, anthropologists who curiously step back and study our own rituals. Together we peel back layers, make muscles pray for mercy, empty out emotions, lay down masks, learn to make fun of our egos and dance til we disappear. And in the process, we realize we have a choice, a way out of the mindless into the mindful.

BEING LOVING KNOWING SEEING HEALING

The Focus: taking responsibility for our actions and reactions.
The Outcome: Knowing who we are and who we are not is a major contribution to a better world.
---
July 25th - 29th
God Sex and the Body
"God Sex and the Body is and always will be a profound and integral part of the 5Rhythms® curriculum. It has personally informed my way of being, my teaching style, and, most deeply, my acceptance of who I am and who I am not." -- Gabrielle

In the series of maps that comprise the dancing path of the 5Rhythms®, God, Sex and the Body is an initiation into being an embodied soul. It is a deeply personal journey, a celebration like no other, a ritual for the hot and holy you.
MOTHER FATHER MISTRESS WILD SON MADONNA HOLY SPIRIT

This journey is a call to stretch our imaginations with a long forgotten innocence and move through a spectrum of feminine and masculine archetypes, to dress up these characters in ritual theater, get inside them and give them expression. No one else can be a man or woman exactly like you. No one else can embody your soul, or project your magic or have your specific curiosity. Part lover, part artist, part god, we were born to rock the world and feel our way into each others hearts.

Grounded in the 5Rhythms Movement practice, this experience can liberate and inspire us to emerge a bit more fascinated with each other and the mystery of it all.
---
Recommended reading: Roth. Maps to Ecstasy and Sweat Your Prayers.
---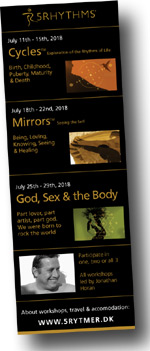 Flyers
If you would be willing helps us and know a good place for Flyers. We could send you some.

Please send an email with your name and address to jan@redsted.dk

Times:
Cycles : July 11 - 15, 2018
Wednesday: 12:00 pm - 7.00 pm
Thursday: 11.00 am - 6.30 pm
Friday: 11.00 am - 6.30 pm
Saturday: 11.00 am - 6.30 pm
Sunday: 11.00 am - 5 pm

Mirrors: July 18 - 22, 2018
Wednesday: 11:00 am - 4.30 pm
Thurs: 10.30 am - 7.00 pm
Friday: 10.30 am - 7.00 pm
Saturday: 10.30 am - 7.00 pm
Sunday: 10.00 am - 2 pm

God Sex and the Body : July 25 - 29, 2018
Wednesday: 3:00 pm - 7.00 pm
Thursday: 11.00 am - 6.30 pm
Friday: 11.00 am - 6.30 pm
Saturday: 11.00 am - 4.30 pm + Evening session
Sunday: 11.00 am - 2 pm

Teacher: Jonathan Horan (USA)

Level:
All workshops contribute to 5Rhythms® teachers training prerequisites.

We suggest that the Mirrors series be completed in this order: Tribal Mirrors, Mirrors, Naked Soul

Venue:
Campus Vejle, Boulevarden 48, 7100 Vejle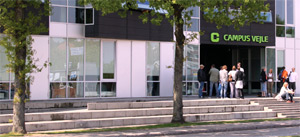 Find it on Google maps here...
Parking
Free parking
Information about Vejle
http://www.visitvejle.com/ln-int/denmark/vejle-tourist
---
Price / Payment:

Price for all 3 DKR 8000
For 2 workshops: 6000 Dkr

For one workshop 3500 Dkr

We offer a 15 % discount of the full price for 5RTA members (Trained 5R-teachers)
---
Prerequisites:
Participants are required to have at least 1 weekend Heartbeat for the Cycles and min. 5 Days Cycles for Mirrors.

All workshop hours contribute to 5Rhythms® teachers training prerequisites.
---
Contact / Booking:
We need a short list with title, teacher, date and place of the Heartbeat and / or Cycles workshops you did (only 5Rhythms workshops please... )

For the GSB workshop is only requiered 5Rhythms waves expirience.
Please send an e-mail with your name, address, phonenumberto Jan Redsted and I will send you all the information you need!

Email: jan@redsted.dk Tel +45 29 62 29 76
---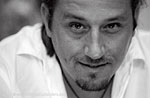 Jonathan Horan is Gabrielle Roth's son and closest collaborator. He is the Executive Director of her international institute, 5Rhythms Global as well as the Director of The Moving Center School NYC.
Jonathan has been immersed in the 5Rhythms practice throughout his life and continues to be a key catalyst in its evolution. He is a member of the core teaching faculty of both training and advanced work and teaches workshops of all levels around the world. He has taught at Vassar College and currently teaches for a variety of institutes such as Esalen, Omega, Kripalu and Naropa Institute and an annual residency in Blue Spirit in Costa Rica. His weekly NYC High Vibrations class has been featured in New York Magazine, Breathe, and the Daily News, and was chosen as the hottest movement class in New York by the Village Voice.

From the mountains and oceans of Big Sur to the skyscrapers and theatres of NYC, I grew up in extremes and learned a deep respect for the wilderness that is both nature and human nature. When I was nine, I participated in my first 5Rhythms workshop — my grandfather was dying, my mom was very fragile and I was worried about her so I hung around. I fell in love with the work, the rhythms, the people, the freedom and the discipline. By seventeen, I had dropped in fully and I have done almost every workshop Gabrielle has taught in the last twenty-five years. I followed in her dancing footsteps as student and teacher and am committed to keeping the fire of her core teachings alive.
---

Vejle city
.
---

RENT car
:
www.europcar.dk
RENT Bicycle
:
visitvejle.com
---
Travel/Trains/Airports
Airports:



BillundAirport (35 min with bus to Vejle)

Buses (Billund - Vejle | Vejle - Billund)
1. Bus 912X Click here
2. Bus Sydtrafik Click here
Both busses goes to TrafikCenter (15 min walk from venue: See rute here.... )

Copenhagen Airport
About 3 hours in train

Order Trainticket from Copenhagen here:
http://www.rejseplanen.dk/bin/query.exe/en

From: Copenhagen Airport
To: Vejle St.
Walking from Vejle train Station to Venue
---

Overnight Accommodation:
Own sleeping bag at the venue
The venue is open to let participants stay overnight for 50 Dkr. pr night. (little less than 7 Euro)
Can be payed during or before your stay.

Its very basic with classrooms where you would have to bring sleeping bag and something sleep on like a rolling pad or yogamatt.

Only Tea-kitchen to boil water, with no cooker or fridge but good showers and toilets.
Write to us if you are interested in this option. jan@redsted.dk
----------------
BB Hotel very close: This is a cheap solution if you share room with 1 or more people. Last years many were satisfied with this place and its only few min. walk from venue
http://www.bbhotels.dk/ (700 M) See on Maps
We heard of these 2 BB in Vejle center
1. www.casa-mundo-bb.com
30 min walk from venue see: google.dk/maps

2.This is a little closer: www.siesta-vejle.dk
15 min walk see : google.dk/maps
--------------------------------------------------

Hotels few meters from venue
1. www.scandichotels.com (600 M) See on Maps

2. BestWestern (1100 M) See on Maps
3. Vejle Center Hotel (750 M) See on Maps
4. CABINN Vejle (1200 M) See on Maps

--------------------------------------------------
AirBnB Vejle www.airbnb.dk/s/Vejle
Hostel (5 KM from venue)
http://www.vejle-danhostel.dk/index_eng.html
Appartments in Vejle
Click here...
Private BB in & close to Vejle
http://www.visitvejle.dk/vejle/bed-and-breakfast
Rent a Summerhouse (Car needed)
5 to 20 KM from venue
See more here...
Camping
www.vejlecitycamping.dk (2.8 km from venue)

If you have a car:

faarup-soe.dk-camp.dk 12 km

www.vejlefjordcamping.dk 15 KM from venue

www.hagenstrandcamping.dk 19 KM from venue

www.morkholt.dk 18 km from venue
Local Dancers who are offering rooms
We created a facebook group for this kind of communication: "5Rhythms workshops in Denmark" Join the group here!
---