København
5Rytmer hver onsdag
med Mette & Lulu,
Kl.19.00 - 21.00.
NOR. Hejrevej 30. 3 sal.
2400 Kbh. NV
Se mere...
---
---
De 5Rytmer Med
Birgitte Rasmussen
Hver 2. fredag
kl. 19-21.30
Kapelvej 46C, 2200 Kbh N
Se mere...
Århus
Hver tirsdag Kl.18.30 - 21.00
N. Kochs Skole
(Indgang G øverste sal)
Skt. Johannes Allé 4, Aarhus C
Se mere...
Vejle
Hver fredag. kl. 18.30 - 21.00.
DANSEquilibrium
Horsensvej 72D 1, 7100 Vejle
Med Annette &/eller Jan
Mere om Vejle
Kolding
Drop-in wave hver 2. ons.
(ulige uger) kl. 19.30-21.30
Mere om Kolding



Join the facebookgroup
International 5rhythms workshops in Denmark
to share travel, accomodation etc.

Workshops
---
---
5 workshops i Hvidbjerg
- en til hver enkelt af de 5 Rytmer

Enten som enkeltstående workshops eller som sammenhængende forløb.
Lørd. d. 19. januar: kl. 11 - 18 Flowing

Lørd. 23. februar kl. 11 - 18 Staccato

Lørd. d. 23. marts kl. 11 - 18 Kaos

Lørd. d. 13. april kl. 11 - 18 Lyrisk

Lørd. d. 11. maj kl. 11 - 18 Stilhed
Du kan tilmelde dig hver enkelt. Hver workshop er en helhed i sig selv og arbejder dybere med hver af de 5Rytmers unikke aspekter.

Tider: Alle workshops, lørdage,

Sted: Dansesalen i Hvidbjerg, Fædrift 23, 7080 Børkop

Se mere...

https://www.facebook.com/events/1114898975347707/
---
---

Vejle 24. - 26. May 2019
Live Wire
An investigation of soul through the body
5Rhythms® Ritual Theatre & Movement
Led by: Lorca Simons Assisted by Annette Uhlemann

Sculpting spirit into shape, writing soul into story, dancing mind into the wind and tracing the heart home. Live Wire Theatre Labs awaken and sharpen those places in ourselves that need realigning, recharging or perhaps rewiring back to what's most original and true, unlocking the stories our bodies are longing to tell--the poetic landscape that is at the root and heart of the 5Rhythms practice. The beauty of our 5R practice from a theatre prospective is having the opportunity to reflect life, absorbing every morsel of its offering and gifting it back to the dance over and over again. In living this practice as artists we embody the rhythms through every breath we take, through every offering we make. Each gesture being an extension from our body, heart, mind, soul and spirit. We will write, wonder and weather our way through light and shadow, footfalls and silences, creating the Ritual Theatre of your/our stories detailed soulfulness.

Furious dancing, mysterious humor and indelible visuals may occur.
Se more here...
---
---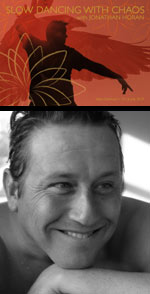 Vejle 12. - 16. July 2019
Slow Dancing With Chaos
with Jonathan Horan

Fueled by the ecstatic language of the 5Rhythms®, this is movement as spiritual practice, a dancing, kinetic prayer of connection to the unpredictable mystery of it all.
The way to this center is a deep medicine journey, a journey of blood, bones and sweat -- nothing less than an intimate affair with yourself.


Ane Friis
Kolding
+45 28 15 57 54
www.bodystory.dk

---

Annette Uhlemann
Århus, København & Vejle
+45 31 23 93 13
www.uhlemann.dk
---

Birgitte Rasmussen
København, Ringsted & Silkeborg
+45 26 27 14 71
www.dans5rytmer.dk
---

Günther Schrader
Aalborg
+45 20 47 13 19

www.5rytmeraalborg.dk
---
Jan Redsted
Århus, København & Vejle
+45 29 62 29 76
Jan Redsted
---

Laila Wodtke Nissen
Århus
+45 22 25 42 43
www.humanmove.dk

---

Lourdes Vazquez
(Lulu)
Copenhagen
lulu@connexion4.com
---

Mette Feilberg
København
+45 21 33 13 41
Se mere...
---

Nina Ejlskov
Fyn
ninaejlskov.dk

---
Gabrielle Roth
The 5Rhythms® global
www.gabrielleroth.com
---